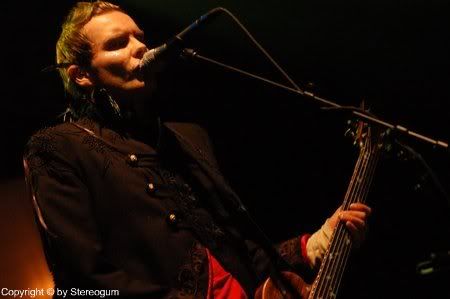 Leider hab ich den Stream des Sigur Rós Auftritts beim Bonnaroo Festival am Samstagabend nicht gesehen, aber was man so bei Stereogum darüber lesen kann muss das ein Hammerkonzert gewesen sein.
Anscheinend so gut, dass dort auch gleich 5 Gründe für einen zwingenden Konzertbesuch in den nächsten Monaten genannt werden. Nicht dass ich auch nur einen davon bräuchte.
The current setlist is a catalog-spanning beast, showcasing hallmark moments from each of the band's style shifts, …[]
The Með suð í eyrum við spilum endalaust stuff crushes it live, comes with lots of horns, ups the band's overall joy quotient, and really seems to have loosened them up, as people, even more…[]
Umm, "Gobbledigook." Which winds up having 12 people on stage (fully clothed, sorry), a drumline powered by amiina, confetti guns, and, most notably, a wildly grinning Jonsi.
The mariachi band that parades the stage during "Sé Lest" has a pretty great outfit.
They are the best band in the world.
Die folgenden Videos vom Bonnaroo können natürlich keinen Live-Auftritt von Sigur Rós ersetzen, aber immerhin bekommt man einen ersten Eindruck wie sich z.B. Gobbledigook auf der Bühne anhört.